Spotlight on
Gino Sarfatti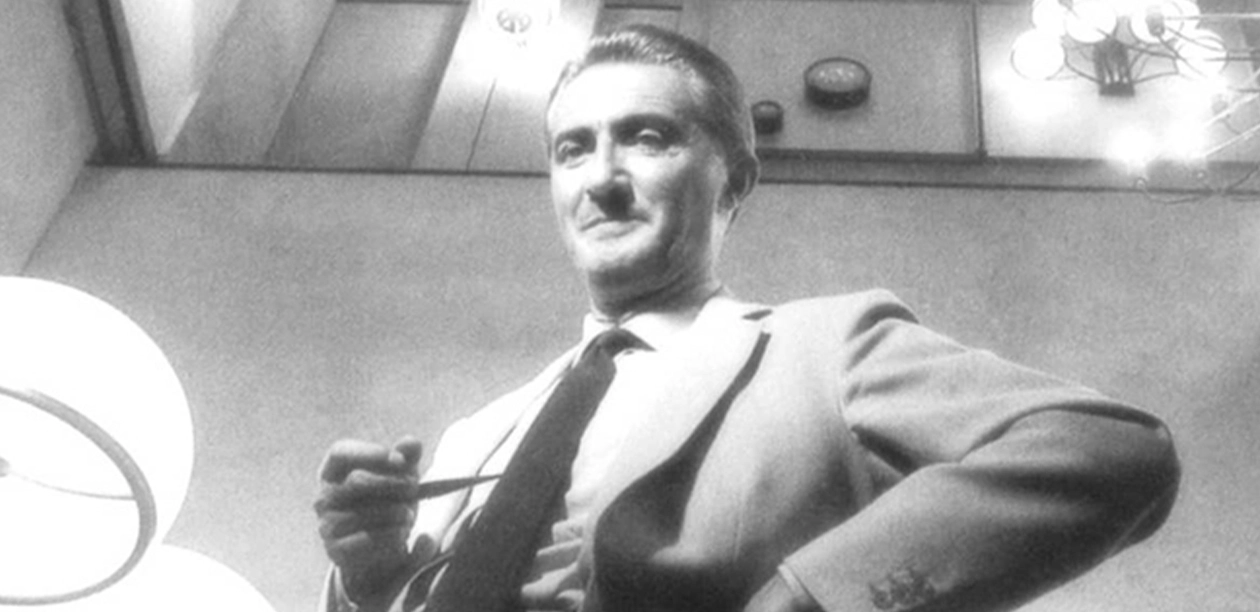 Back when Didier Krzentowski began collecting lights, Gino Sarfatti (1912-1986) had been entirely forgotten. Today, Sarfatti is recognised the world-over as one of the greatest lighting designers of the 20
th
 century. The innovation, elegance and rationality that characterises his designs have assured his iconic status and made him a particular favourite at Galerie kreo. 
Sarfatti's career as a designer was in fact an unexpected one; his family had wanted him to become a navel engineer and he began studying aeronautical engineering in 1930. Yet when the political situation in Italy ruined his father financially, Sarfatti was forced to interrupt his studies to seek work. It was only then that he set up his own lighting workshop, Arteluce, at the age of 23.  
His scientific background had a strong influence on his approach to lighting. Like any pioneering scientist, he was endlessly experimental, methodical and committed to rationalizing his designs. For Sarfatti, the form of a lamp was always secondary to its function; its design should first and foremost meet the needs of modern life.
But for Sarfatti, prioritizing utility didn't mean compromising on aesthetics. He stated that "A good solution is also a beautiful solution". By uniting form and function, Sarfatti transformed lighting by breaking down the distinction between a functional and a decorative lamp.
A life dedicated to light
In his writings on "modern lighting" he proposed that the meaning of lighting is "Certainly not to just cast light everywhere, but…to cast light wherever we are in a given moment. In other words, to make light felt in different tones and intensities (too much light equally diffused is always monotonous) in any corner or environment (table, mirror, chair etc) where the small needs of our day take us". His designs were therefore more practical than decorative. The handle, a feature that often appears in designs and allows the user to move the light as necessary is emblematic of his dedication to functionality. 
His scientific background was evident not only in his practical designs but in his experimental approach. Despite dedicating himself exclusively to lighting, he constantly succeeded in innovating the field. He was keen to try out the newest materials, using Perspex as early as 1948 for his table lamps and was open to the creative potential of human error. For example the "crackle" paint effect which is now considered a distinctive feature of his designs was in fact the result of an error in procedure and temperature which Sarfatti nonetheless replicated for its durability and aesthetic value.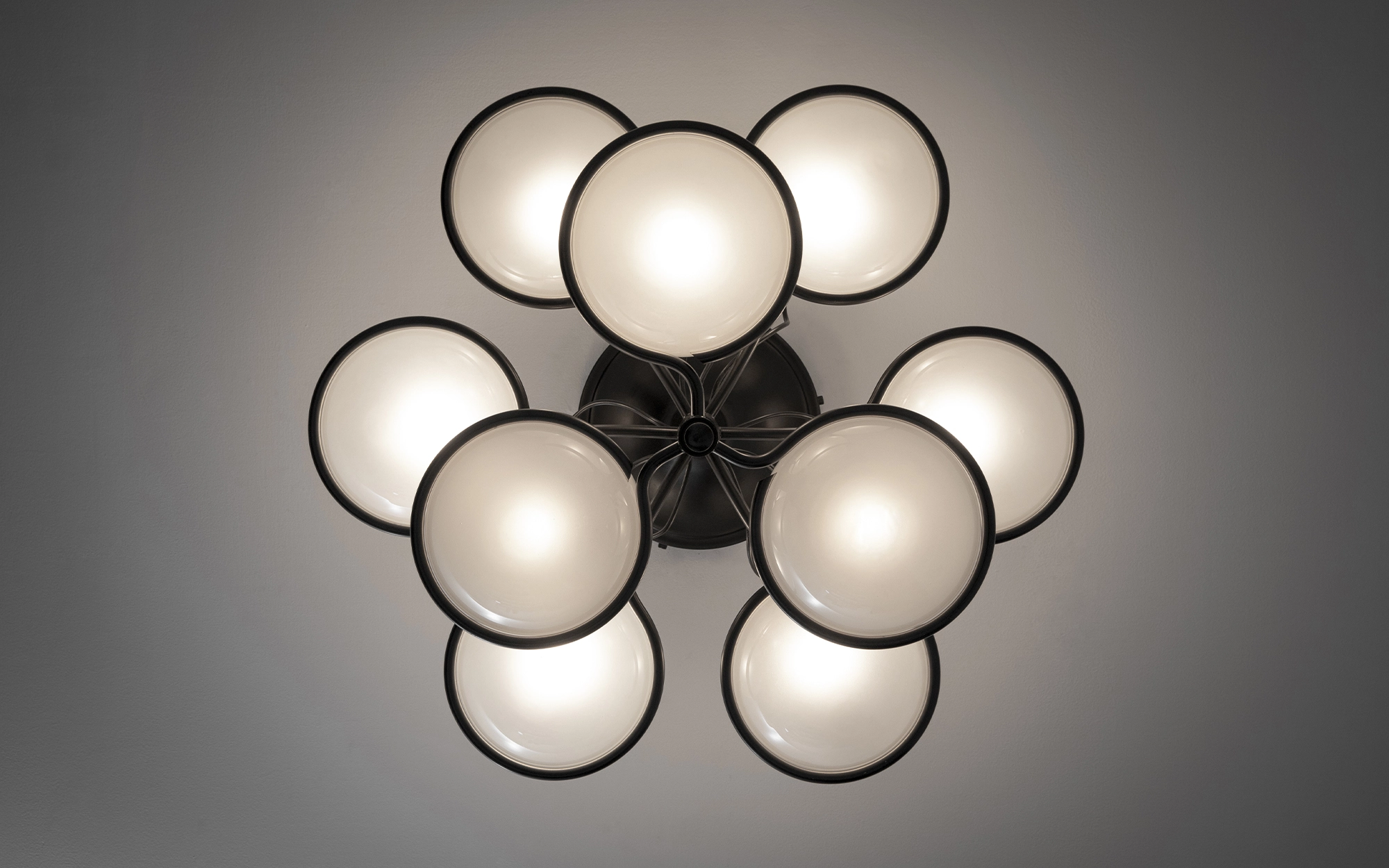 Ceiling light '2042/9', 1963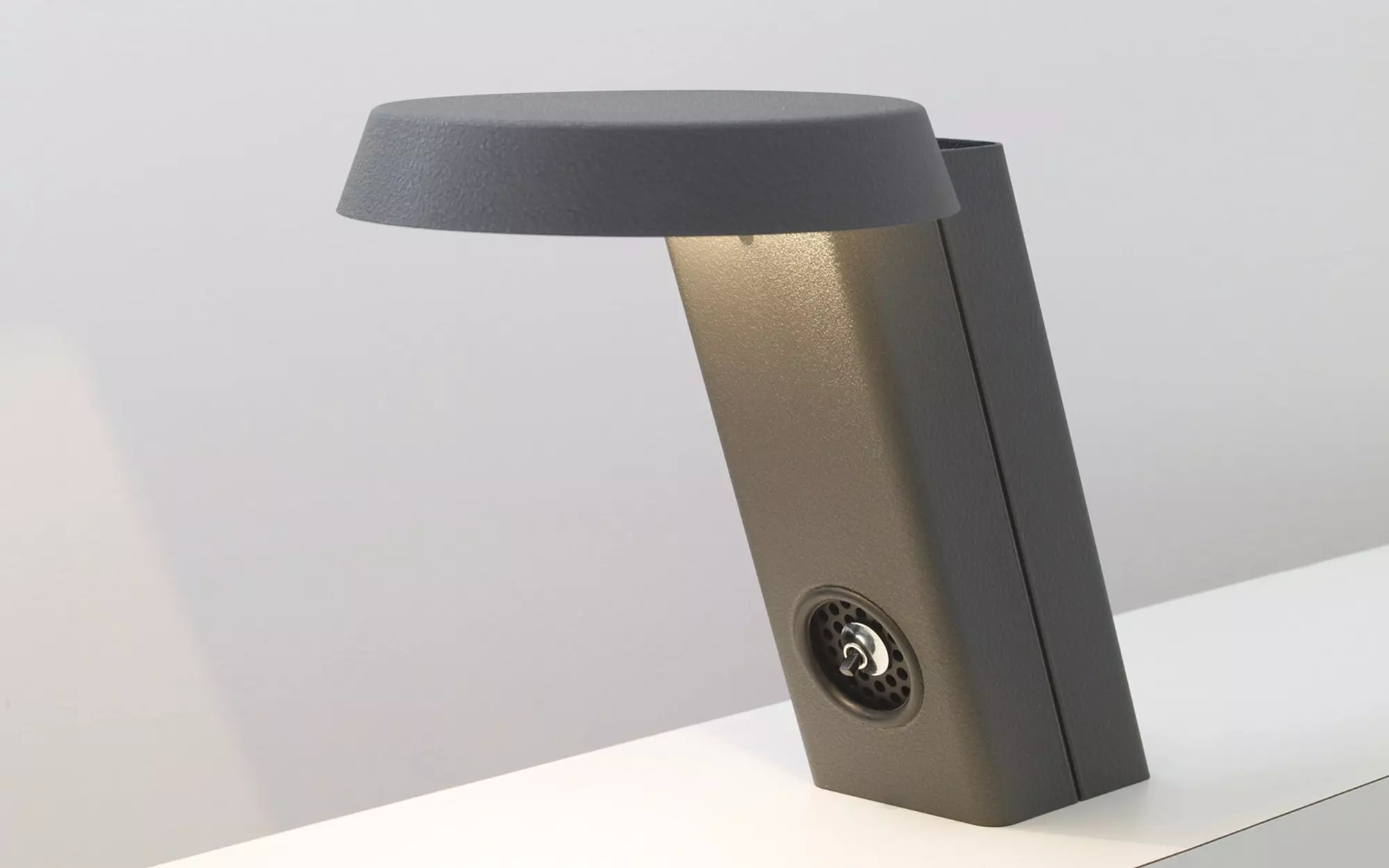 Table light '607', 1971
One of his designs that is perhaps most emblematic of Sarfatti's rationalization and experimentalism is model 1063, a single neon strip light that won the grand prize at the X Triennale.  For this model Sarfatti did away with all superfluous elements, to draw attention to the source of light and in so doing, highlight the function of the lamp itself. In this sense, Sarfatti was almost proto-minimalist, streamlining every aspect of the design so that the transformer for example, also functions as a counterweight to balance the lamp. As Sarfatti summed up himself "the lighting system is simply a means of support that highlights the characteristics of the lightbulb".
This rationalization marked his system of production as well as design, as illustrated by the system he used to name the models. Fixtures were numbered by category 100 for wall lights 500 for table lights, 1000 for floor lights, 2000 for the ceiling lights etc which emphasises the rational over the decorative in his designs.
Having won numerous prizes throughout his career, Sarfatti is undoubtedly one of the major figures of Italian post-war design. His commitment to designing lights that responded precisely to modern needs, mark him as a pioneer in the field.
Spotlight on: Gino Sarfatti